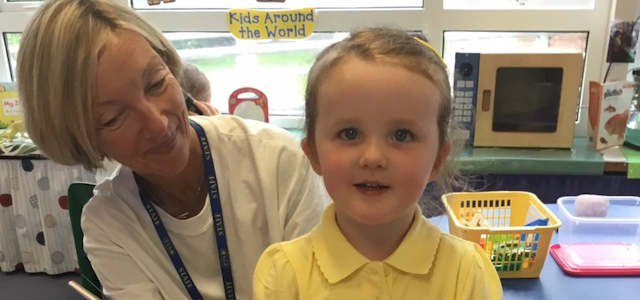 October focus for learning - Language and Literacy
Activities at home should be designed to help your child love language and literacy. Build your child's confidence and encourage any attempts along the road to drawing, communicating, reading and writing.
Telling, retelling and understanding stories • Before reading, make predictions and ask questions. What do you think will happen next? • Talk about new words you come across and their meanings • Make connections to everyday life e.g. "That's just like the time when you…" • Talk about, comment on and ask questions of the different characters as a story develops. How does the character feel? • After you have read a book, encourage your child to retell you the story in order, "reading" the book, turning the pages to the end. • Have fun with the story – act it out, make up voices, dress up, use props and puppets etc. • You can never read a book too many times. Every time your child enjoys a book again, they gain new knowledge, build fluency and develop ideas.
Building a reader • have the child turn the pages as you read • encourage your child to fill in rhymes as you read • point out patterns and repetitions in text and illustrations • provide a safe place to read – make a warm, cosy reading nook in your home with pillows, cushions, blankets and stuffed animals • model good reading and read for yourself – help your child fall in love with books whether it's comics or magazines or novels
Make reading an adventure • Read in fun places – Read outside, inside, in the car, in the bath, in bed, under the covers, under a tree, at the park, at the library… • Read in fun ways – use a torch, use a tablet, act it out, sing the words, read in a whisper, read to a pet… • Read in different ways – fiction, non-fiction, counting, ABC's, long, short, poetry books, lift-the-flap books, cook books… • Read about different things – family, friends, feelings, school, sports, dinosaurs, dancing, pets, plants, princesses…
Building a writer • Encourage your child to draw shapes, make pictures and explore lines • Work alongside them provides pictures and words for them to copy • Let your child see you writing in a variety of circumstances in everyday life – doodling, lists, crosswords and word-searches etc.
Creating reasons to write • a shopping list • a birthday card • an invitation • a letter • a menu • labels on photos or captions in albums • messages to friends and family
Providing resources to write • pencils • crayons • felt tips • note pads • paper • envelopes • stencils • glue • stickers • tape • post-its • cards
Please visit https://gettingreadytolearn.co.uk/themes/bigbedtimeread/ for more information.
BookTrust have also launched an amazing digital hub, which is packed with reading advice, ideas, activities and resources. This includes its own Northern Ireland page, where they feature local authors, illustrators and initiatives. The aim of this portal is to highlight the talent Northern Ireland has and inspire families and future readers of our area. The BookTrust NI facebook page allows families to stay connected and share the work that authors and illustrators post on Facebook. Check it out.